Scholarships
Current Scholarships
Scholarship program for research visit in China of DAAD Thematic Network at University of Stuttgart

The application is possible at any time.
The application forms are available for download (in German).


Aktuelle Stipendienvergabe
Stipendium für Forschungsaufenthalt in China des DAAD Thematischen Netzwerks an der Universität Stuttgart

Eine Bewerbung ist jederzeit möglich.
Die Bewerbungsunterlagen stehen nachfolgend zum Download zur Verfügung.


1. Offizielle Stipendienausschreibung - Flyer / Offical scholarship announcement - flyer
2. Ausführliche Bewerbungsinformationen / Detailed application information
3. Antragsformular TN DAAD / Application form TN DAAD
Experience Reports
Wuhan University, Wuhan, China - Yang Li, Master student
First, thanks DAAD so much for the opportunity of an exchange semester with Wuhan University. It was great experience for writing master thesis in China.

My master thesis was co-supervised by Prof. Sneeuw and Prof. Jiang on the topic of geodetic time series analysis: Complex Singular Spectrum Analysis. There is a special group in Wuhan University studying on time series analysis. We had talk meeting on the research every Tuesday and shared ideas. The colleagues are warm-hearted and knowledgeable. I got much help from them when I met some problems on programming. What's more, when I didn't know how to continue the research, they gave me fresh ideas on how to analyze the time series and how to present the analysis results in a good way.

Wuhan is the biggest city in the middle of China. I visited Yellow Crane Tower and Eas t Lake Scenic Area of Wuhan at the weekends. Autumn in Wuhan was so wonderful. It was warm and mild. My friends and me rode the bikes around the lake and hiked in t he mountain. Besides, I went to Guangzhou by ICE for 5 hours on the way. I was there for 3 days to do some sightseeing on New Year vacation. In addition, there are many kinds of delicious food in Wuhan like Weekly Black Duck and Crayfish. Mess is opened from morning to evening even in weekends with much delicious food. I finished the study part of my thesis successfully in the Wuhan exchange semester. During this period, I got much help from Chinese professors and colleagues and enjoyed the weekends with friends going to the parks and museums. I shared my life experience on study, food and others in Germany with them. I hope that they can learn more about Germany. The days in Wuhan University was so nice with much pleasure.

Sincerely, Yang Li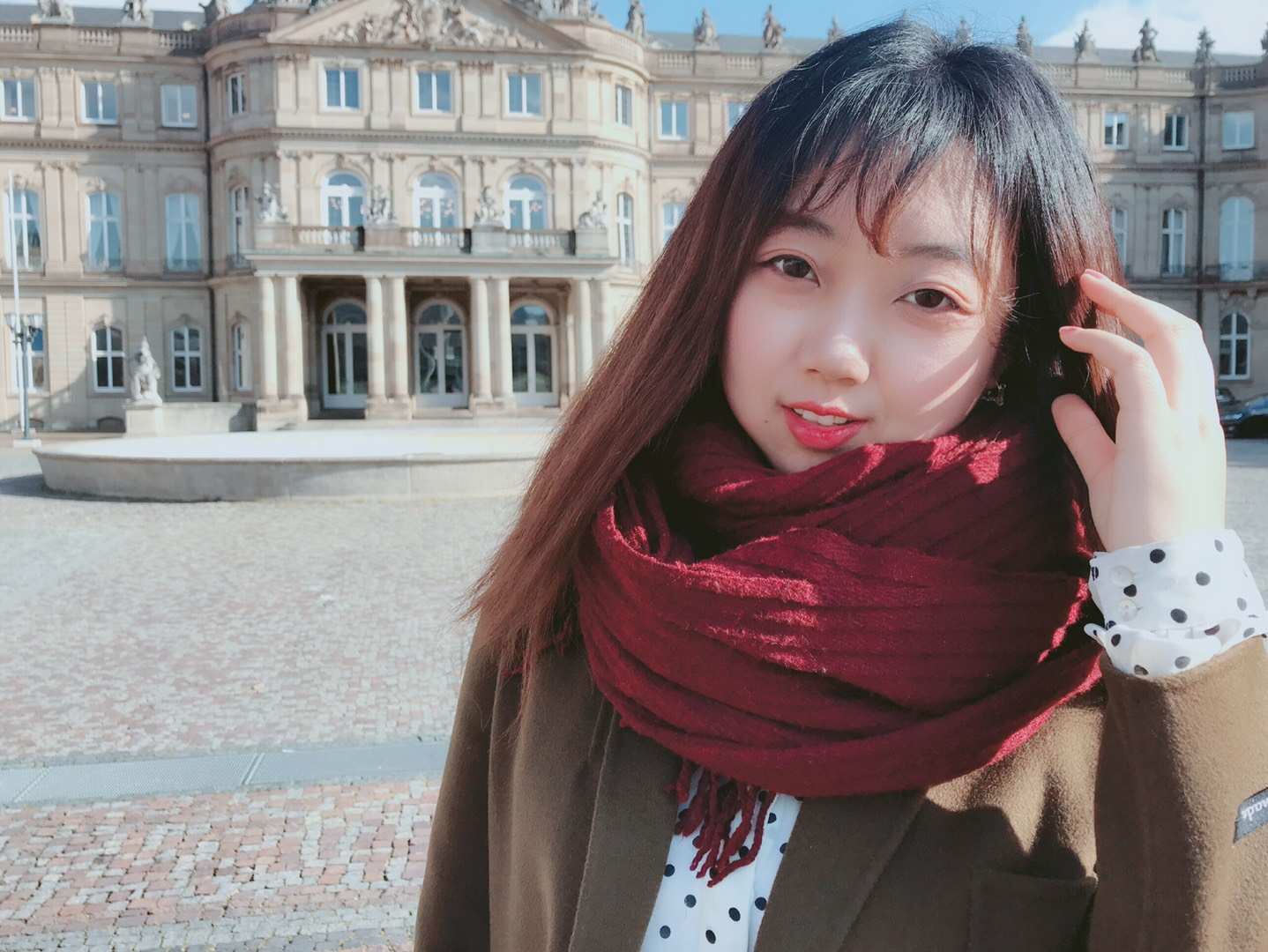 Wuhan University, Wuhan, China - Wei Liu, PhD student
It was a very nice summer school with a variety of topics in satellite geodesy, geodynamics and geophysics. The courses covered fundamental theory, analysis methods and interesting results. During that week, I gained both knowledge and different viewpoints, which not only is helpful for my current research work, but also may help me in interdisciplinary research in the future. It was also a good chance to meet old friends and make new friends in research field. The summer school was so well organized that we were not bothered by any other problems like finding foods and so on. Thanks all the teachers and organizers for their efforts to hold such a perfect event.
Wuhan University, Wuhan, China - Yang Li, M.Sc. student
DAAD Thematic Network Summer School on Geodetic Techniques for Global Change Monitoring in Yichang in July 2017
Thanks so much for the opportunity provided by DAAD project.
It is a wonderful summer school hold in Yichang,China for geodetic exchange. For me, it is really precious to communicate with so many excellent professors and students.
The professors from Uni-Stuttgart , Wuhan University, Tongji University and Chinese Academy of Surveying and Mapping gave us the lectures and labs about Time series , Satellite altimetry, Satellite Gravimetry, deformation monitoring and GNSS Seimology. They introduced the basic methods and applications. As a master student, I have learned many new concepts related. If I didn't understand well, I could talk with other students or ask from the professors directly during the break. It is really valuable chance that I can learn so much about geodesy and it broadens my views of the future research.
The Wuhan University provided us best accommodation to live in and delectable buffet in Yichang. As an excursion, we visited the Three Gorges which is so amazing. After lectures, we walked along the Yangtze River and enjoyed the poetical landscape.
All in all, the DAAD Summer School is a really great exchange-program for students in Germany to go to China to learn from the outstanding professors, enjoy the delicious food and see the amazing landscape in China.
Tongji University, Shanghai, China - Yasin Shafaghi, M.Sc. student
I started my exchange program in Sep. 2016 at Tongji University in Shanghai. At the moment, I am working on my master thesis with the topic "A GIS-based social network for refugees in Germany" under supervision of Dr. Walter at University of Stuttgart and Prof. Tong at Tongji University. I have had good support from both supervisors whenever I had any questions. I have already given two presentations of my progress in the interior meetings of our group at Tongji University. Also, I had the chance to attend the presentation of Dr. Shaker from Ryerson University in Canada who had come to visit.
So far, to me, it has been a very exciting experience. Although I had some concerns at the beginning about this program, everything has been going great ever since I have arrived here. Tongji University provided a Chinese class for foreign students which I attended beside my thesis work. It is so interesting to learn a new language while using it in everyday life. I visited some other places like Beijing, so I had the chance to see the great-wall which has been a highlight of my journey. Having lived among Chinese people gave me the opportunity to learn a lot from their culture, taste their delicious food and maybe the most important for me, to observe big efforts from all people to develop their country quickly.
About the scholarship, I think it worked quite well for me and it has been enough for the living costs. The only matter is the accommodation cost which is a bit expensive in Shanghai. It would have been much easier if the university provided a room at the campus. However, I got informed before that the dormitory was not guaranteed. When I came here, my Chinese colleagues helped me a lot to find an appropriate room.
To sum it up, I would like to strongly recommend every student to use this opportunity and make their life more exciting and their view wider than before. At the end, I would like to appreciate the sincere support and help of Prof. Sneeuw, Prof. Tong, Dr. Cai and Dr. Walter.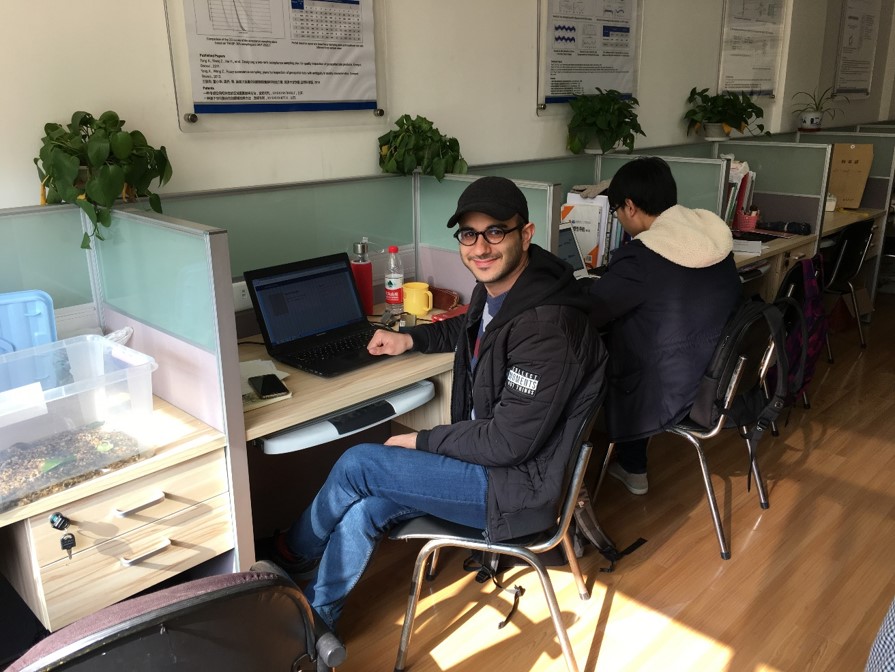 Wuhan University, Wuhan, China - Li Jiaqiang, M.Sc. student, M.Sc. student
I really appreciate that I got the opportunity to do my master thesis at Wuhan University for one semester. It is a scholarship program for research visits in China of the DAAD Thematic Network at the University of Stuttgart. In the school of Geodesy and Geomatics at Wuhan University, I am very pleased with the fact that my supervisors Prof. Yan Li and Dr. Xie Hong offer me a working place with a particular desk in their image processing lab. It is a large laboratory composed of lecturers, Ph.D. and Master students who are all very friendly.
We communicate about a number of things, not only about the study but various topics including life in different cultures, movies, interesting news and alike.
During the time at the institute, we usually have discussions and exchange solutions and ideas that positively contribute to the research. There are a lot of academic conferences and workshops held in Wuhan University, such as the third international workshop of NSFC's major international joint research project (Nico Sneeuw, Jianqing Cai, Yanming Wang, etc.) and the presentation of the advanced Laser Scanning by Juha Hyyppa from Finnish Geospatial Research Institute. It is a great platform to stay informed about worldwide researching trends in Geomatics.
With respects to accommodation, renting a single room near the campus is not a problem. The place I live in is in the intersection of three Universities. Hence, there are different kinds of facilities that fit your demands (e.g. bars, coffee shops, restaurants, fitness centers, shopping malls).
As the most beautiful campus in China, the Wuhan University leaves a deep impression on me with its profound traditional Chinese cultural heritage. Walking on campus gives me the feeling of comfort and relaxation. There is a saying that happiness takes no account of time. Four months passed have already passed, but it all still feels fresh to me.
Through this exchange program in Wuhan, I have received the opportunity to do my studies, make new friends, experience a different lifestyle and discover a lot of new things. I am grateful for the acceptance to this program from Stuttgart University and Wuhan University and highly appreciate the help and support from Norbert Haala, Nico Sneeuw, Jianqing Cai, Li Yan, Chance Coughenour and Hong Xie.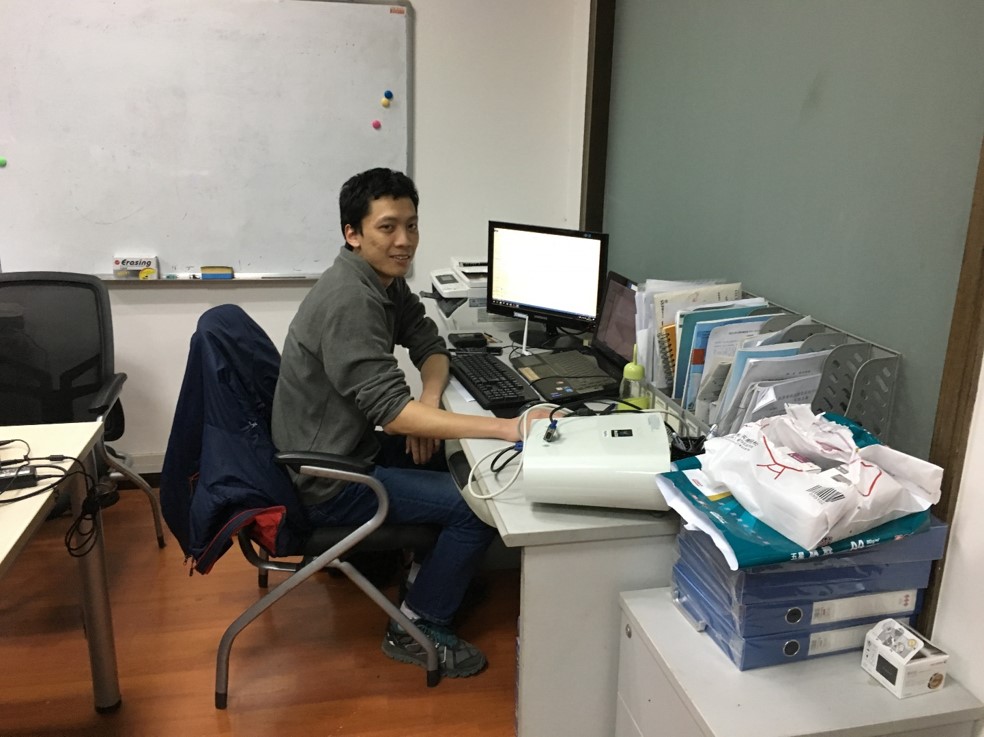 Wuhan University, Wuhan, China - Zhongyi Chen, M.Sc. student
Three months have passed since I came to Wuhan University. At the beginning, I had difficulties finding accommodation. Since I was not a registered student at Wuhan University, it was impossible to apply for a dorm on campus. But it just took me two days to find a well located, delightfully decorated single-room with a reasonable price (less than 200Euro per month).
As for the study, the School of Geodesy and Geomatics arranged a seat in the computer room for me, where I spent most of my time working on the research. There are around 20 students in this computer room and most of them are Ph.D. students, so I can always discuss my problems with some students whose study fields are similar to mine. My co-supervisor, Prof. Caijun Xu, also helps me a lot in terms of data processing.
As for now, what impresses me the most is the abundant study resources in the School of Geodesy and Geomatics. There are roughly 30 students in our research group and they are working on different seismology aspects, such as seismic mechanism, seismic wave, application of GPS and InSAR in seismology. We also have a tradition of holding a weekly symposium. Two students (usually one Master student and one Ph.D. student) introduce what they are doing recently and discuss with us what can be done further. I learn quite a lot not only from the new theories and methods they share but also from the systematic way they think and solve the problems. Moreover, many professors of geodesy and geomatics are invited to give opening lectures to us.
There is a lot of academic exchange with foreign universities or institutions. I even had the opportunity to meet my supervisor Prof. Nico Sneeuw on a workshop in early November. For the next three months, I will keep working on my thesis and try to learn more about seismology from our research group.
University of Stuttgart, Stuttgart, Germany - Wu Weiwei
It's my honor having the opportunity to be included in the DAAD program and be an exchange student studying in Institute of Geodesy, University of Stuttgart, Germany.
It's the first time I went abroad and it was a wonderful experience in my life. Back on 01/12/2016, I was so excited to take the flight to Stuttgart, and due to the exciting emotion, I barely slept on the 16 hours trip. In the first week, Dr. Cai introduced me to the colleagues, including Prof. Sneeuw, and students in the institute, and helped me to settle down for both accommodation and office. The room was lovely in a safe and quiet community, and so was the office. In less than one month, I had got used to live and study in Stuttgart. Every weekday morning, I spent half an hour to the office by train, and before 10 o'clock, I arrived the office and started to work till night. At noon, Dr. Cai always had lunch with us, and discussed withm us on academic content. We appreciated the concern of Dr. Cai and benefitted a lot.
On the weekend, I used to shopping on Saturday and hiking in forests on Sunday. The forests in Stuttgart were so beautiful that I always spent a whole day wandering on the winding paths.
During three months in Stuttgart, I was so glad to be involved in the group activities of the institute. I was invited to join the Christmas party and had a wonderful evening with colleagues.
I had attended several lectures and reports on every Wednesday, and learned lots of new ideas from Prof. Sneeuw and some other colleagues. Besides, I had finished an academic paper "On study of frame alignment: A case study on CMONOC, China", which is on review now.
I had finished the analysis of continuous GPS time series on CMONOC, China, and had been preparing on the campaign GPS time series analysis. On the last Monday of my exchange period, I had made a report on my work, and Prof. Sneeuw, Dr. Cai and some other colleagues had presented lots of good advice, which I appreciated so much. In the end, I want to thank the DAAD program which supported my exchange studying in Germany. Thanks also to Dr. Cai from University of Stuttgart and Prof. Wu from Tongji University who gave me the opportunity to go to Stuttgart. I appreciate the care and concern from colleagues in the Institute of Geodesy, University of Stuttgart, Germany.
University of Stuttgart, Stuttgart, Germany - Haiyan Gu
Six months of German life is extraordinary, it provides a valuable experience and motivation for my life. I summarize from the following aspects.
1. Scientific Research 1.1 GEOBIA Research
(1) Writing a Monograph " Geographical Object-based Image Analysis Technology for High-resolution Remote Sensing Image"
"Geographical Object-based Image Analysis Technology for High-resolution Remote Sensing Image" (Science Press, 2016.11). The book is divided into eight chapters. Chapter 1 is the situation and development of GEOBIA. The background, concept, characteristics, status and progress of GEOBIA are introduced in the chapter. Chapter 2 is the theoretical basis of GEOBIA. The geo-ontology, geo-cognition, geographical knowledge and geographical scale are introduced in the chapter. Chapter 3 is the framework of GEOBIA. It includes the description of the concept ontology of the geographic entity, the geo-ontology modeling of GEOBIA, and the objects classification method based on geo-ontology. Chapter 4 is the description of the concept ontology of geographic entity. The knowledge system of geographic entity, the concept ontology of knowledge, and the concept ontology of land cover are introduced. Chapter 5 is the geo-ontology modeling of GEOBIA. The method and language of ontology modeling are introduced, the ontology model of RS image, object features and classifiers are modeled. Chapter 6 is the image object classification method based on geo-ontology. Four levels of image object classification method based on the geo-ontology is proposed. Chapter 7 is the land cover classification experiment. The experiment of the land cover classification for the Geography Census is presented. Chapter 8 is the landslide recognition experiment based on geo-ontology. This book is the summary of the research of GEOBIA. Its content is specific and informative. It is suitable for the RS, geography and other fields of science and engineering technology, and it is useful for the relevant teaching and research.
(2) Writing Two Papers The one paper is "An object-based Semantic Classification Method for High Resolution Remote Sensing Imagery using Ontology", which has been submitted to "Remote Sensing". A three-step workflow has been introduced: ontology modelling, initial classification based on a data-driven machine learning method, and semantic classification based on knowledge-driven semantic rules. The results proof that this framework enhances existing GEOBIA methodologies: ontologies express and organize the whole structure of GEOBIA and allow to establish relations, particularly spatially explicit relations between objects as well as multi-scale / hierarchical relations. The other paper is "An Efficient Parallel Multi-scale Segmentation Method for Remote Sensing Imagery", which has been submitted to "IEEE Journal of Selected Topics in Applied earth observations and Remote sensing". We presented a new method based on minimum spanning tree (MST) and minimum heterogeneity rule (MHR), we concluded that our method is applicable and efficient for the segmentation of different RS imagery with a variety of landscapes, and is competitive with the FNEA method in accuracy.
1.2 Research on Object-based SAR Classification Based on the study of SAR group, we apply the ontology and GEOBIA method for building extraction using Long-term Sequence TerraSAR-X data. First, the ontology model for building is built, then the buildings are extracted based on GEOBIA method and ontology. However, the result is not ideal, because the building block caused multiple scattering, stacking, shadow and so on, which make it difficult to extract the building.
2. Academic Conference
2.1 ISPRS meeting (7.13-15, Czech Prague) (1) GEOBIA Special Report I have listened to GEOBIA, special report of image classification, learned about GEOBIA new method, and GEOBIA application in forestry pest monitoring, mineral resource extraction and human living environment. I understood the application of depth learning neural network in remote sensing image classification. https://www.conftool.pro/isprs2016/index.php?page=browseSessions&form_session=73 (2) Visiting the Exhibition Hall I have visited the exhibition hall, to understand the virtual reality, google earth engine online cloud services(https://earthengine.google.com/), six rotor unmanned aerial vehicles, measuring robots and other new products..
2.2 GEOBIA meeting (9.14-16, Enschede of the Netherlands) I have listened to the invited reports, such as "Observations on accuracy assessments of object-based image classifications", "On Semantic Segmentation for Image Interpretation", "Development of Skysat satellites and Tensorflow-the open source library for machine intelligence", "Current scenario and challenges in classification of remote sensing images". https://www.geobia2016.com/.
2.3 DAAD meeting (7.20-22, Stuttgart, Germany) The conference is divided into five themes: satellite altitudes, positioning navigation and reference systems, satellite gravity measurements, remote sensing and photogrammetry, and global change monitoring. http://themnet.gis.uni-stuttgart.de/news/#entry1
3. Foreign Exchange
During the exchange, I visited University of Heidelberg, University of Salzburg, University of Twente, and German Aerospace Center (DLR).
3.1 University of Stuttgart, Germany
The direction of photogrammetry is as follows: http://www.ifp.uni-stuttgart.de/index.en.html
1) Photogrammetric Computer Vision
2) Photogrammetric System
3) Remote Sensing
4) Geoinformatics
5) Activities at EuroSDR
3.2 University of Heidelberg, Germany
The direction of the Department of Geography is as follows: http://www.geog.uni-heidelberg.de 1) Geomorphology
2) Hydrology and Climatology
3) Human Geography
4) Economic Geography
5) GIScience
6) 3D Spatial Data Processing
7) Geography of North America
8) Geography of South Asia
9) Regional Governance
3.3 University of Salzburg, Austria
The direction of the Department of Geography is as follows, http://www.zgis.at/
1) Object-based image analysis (OBIA)
2) Integrated spatial indicators (ISI)
3) Multidimensional modelling & simulation across scales
4) Landscape Lab
5) GIScience Lab
6) Mobility and Transportation
7) Geographic Information Infrastructure
3.4 University of Twente, Netherlands
University of Twente, Netherlands Geographic Information Science and Earth Observation Institute research direction is as follows, see https://www.itc.nl/ 1) 4D-EARTH
2) Acquisition and quality of geospatial information
3) Forest Agriculture and Environment in the Spatial Sciences
4) People, Land and Urban Systems
5) Spatio-temporal analytics, maps and processing
6) Water Cycle and Climate
3.5 Earth Observation Center (EOC), German Aerospace Center (DLR)
The Earth Observation Center (EOC) at the German Aerospace Center (DLR) consists of the German Remote Sensing Data Center (DFD) and the Remote Sensing Technology Institute (IMF). The primary tasks of the Earth Observation Center are:
- Conception, development and operation of an integrated ground segment for earth observation missions which includes a network of data reception stations and a German satellite data archive.
- Development of generic processors for data from a variety of remote sensing sensors, systems integration, and operational processing of large amounts of data.
- Development and generation of value-added geoinformation for environmental monitoring, climate and atmospheric research, and for applications in the domain of civil security and humanitarian aid.
- Development and operation of user-oriented service centers for rapid and long-term access to data, value-added products and derived information.
- Provision and operation of optical sensor systems for aerial remote sensing in order to prepare, calibrate and validate satellite sensors and data products.
- Conception of advanced sensor systems and missions (SAR, infrared, multispectral and hyperspectral.
http://www.dlr.de/eoc/en/desktopdefault.aspx/tabid-5277/8858_read-15912/
4. Visiting Experience and suggestions
4.1 Experience
- Country: strict, norms, mutual trust.
- Education: solid theory, pay attention to practice.
- Scientific research: clear division, scientific management.
- Communication: warm and generous.
- Life: close to nature, simple and happy.

4.2 Suggestions
- Treasure the opportunity to go abroad, it is recommended to walk more, exchange more. Man who travels far knows more.
- Treasure the foreign resources, focus on more accumulation, more summary. Know it and then know why.
- Cherish the exchange of opportunities, it is recommended to more open, more integration, and to expand the knowledge, to find the point of integration.
Acknowledgements
It is full and wonderful for me to study in Germany. Thanks for Chinese Academy of Surveying and Mapping, who gave me a chance to study abroad in the best time of my life. Thanks for University of Stuttgart, who supply me a concentrated academic research environment. Thanks for the DAAD project "DAAD-Strategic partnerships and thematic networks 2015-2018, Program line B: Thematic Networks, Stuttgart University (Project No. 57173947)". Thanks for all friends from the University of Heidelberg, University of Salzburg, University of Twente, and the German Aerospace Center, who give me the opportunity to learn, to communicate. Thanks for all, it's a precious memory of my life!